Introducing the Swany Apex Bike Glove, a game-changer for cyclists seeking comfort, grip, and breathability. With advanced features, this glove enhances your biking experience like never before. Crafted with SN7000 Breathable Mesh, it keeps your hands cool and dry. The non-slip fingers and Breathable Synthetic Suede Palm ensure excellent control and durability. Enjoy precise gear shifting and braking with the Super Gripping Finger design. The palm pull tab allows for easy on/off. Elevate your ride with the pinnacle of cycling performance. The Swany Bike Glove is a must-have accessory for passionate cyclists, bringing confidence and style to every trail.
SHELL: SN7000 Breathable Mesh with cooling properties
PALM: Non-slip fingers with Breathable Synthetic Suede Palm
FEATURES: Super Gripping Finger Glove with palm pull tab
30 DAY RETURNS:
Our hassle-free 30-Day Money Back Guarantee is designed to give you peace of mind.
Changed your mind? If you're not delighted with your purchase, you can return a product within 30 days and we will happily refund the purchase price.
It's easy to return a product:
Log into your account to initiate a return
We email you instructions for returning your product.
Ship your unused product, in its original packaging, to the address identified in our email.
REFUNDS, CREDIT AND BALANCES DUE.
As soon as we receive your return and it is processed, we will notify you via email. Your credit card should be credited within 10 business days of the time that you receive the email. The return credit should be reflected on your statement within one or two billing periods, depending on your financial institutions billing cycle. 
Please note:
Original delivery fees are refunded only if returns are for defective products, products that were not described accurately, or incorrect orders.
You are responsible for shipping the products back to us. We recommend using a trackable shipping method.
Individual products may be excluded from this guarantee. Check the product description before you place your order. Any product that is listed in specials is non-returnable.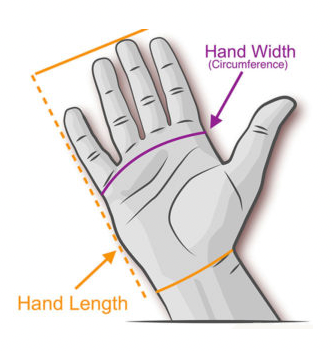 To find out your glove size, measure (in inches) around your hand with a tape measure across your palm. You should use your dominant hand, the right if you are right-handed, and the left if you are left-handed.
| | Small | Medium | Large | X Large | XX Large |
| --- | --- | --- | --- | --- | --- |
| Men | 7.5-8 | 8.5-9 | 9.5 | 10.5-11 | 11.5+ |
| Women | 6-6.5 | 7-7.5 | 8+ | - | - |
| Juniors | Age 3-4 | Age 5-6 | Age 9-10 | Age 11-12 | - |
| Toddlers | Age 1-2 | Age 3-4 | Age 5-6 | - | - |